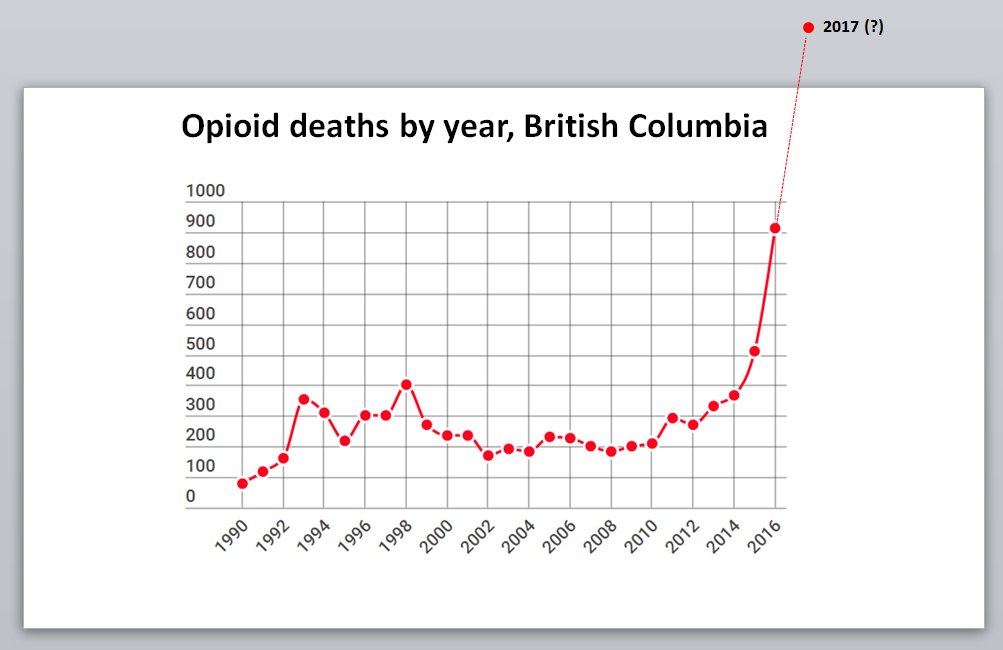 British Columbia has long been cited as a model for North American drug policy and harm reduction implementation.
BC has established a Death Review Panel in response to the overdose crisis. The panel recently issued a report with 3 recommendations. The first recommendation to regulate recovery homes, which currently require only a simple inspection of the facility. (The other 2 were for more maintenance treatments and more harm reduction.)
The chair of the panel cited the abstinence orientation of houses as a concern.
A columnist at the Vancouver Sun pushes back against the argument that BC is suffering from insufficient harm reduction:
This is, after all, a city and a province that for nearly 20 years has been at the forefront of harm-reduction with needle exchange programs, safe injection sites, methadone and suboxone treatment programs, a prescription heroin program and, more recently, free naloxone kits, free-standing naloxone stations and training for first-responders and even teachers in how to use it as an antidote for fentanyl overdoses.

We've gone from crisis to crisis, each one sucking up incredible resources. Currently, a quarter of a million dollars a day goes into the Downtown Eastside alone for methadone treatment. This year, the B.C. government expects the number of British Columbians receiving replacement drug therapy to rise to 30,000 and then nearly double to 58,000 by 2020-21.

In 2006 when Vancouver updated its four pillars approach, it noted that there were 8,319 British Columbians being treated with methadone.

By 2020-21, the province also expects to be supplying 55,000 "free" take-home naloxone kits, up from 45,000 this year.

We keep hearing about an overdose crisis, but what we have is an addictions crisis. Solving it will require a lot more than simply reducing harm.
What's needed is a recovery orientation. (Which does not rule out harm reduction.)